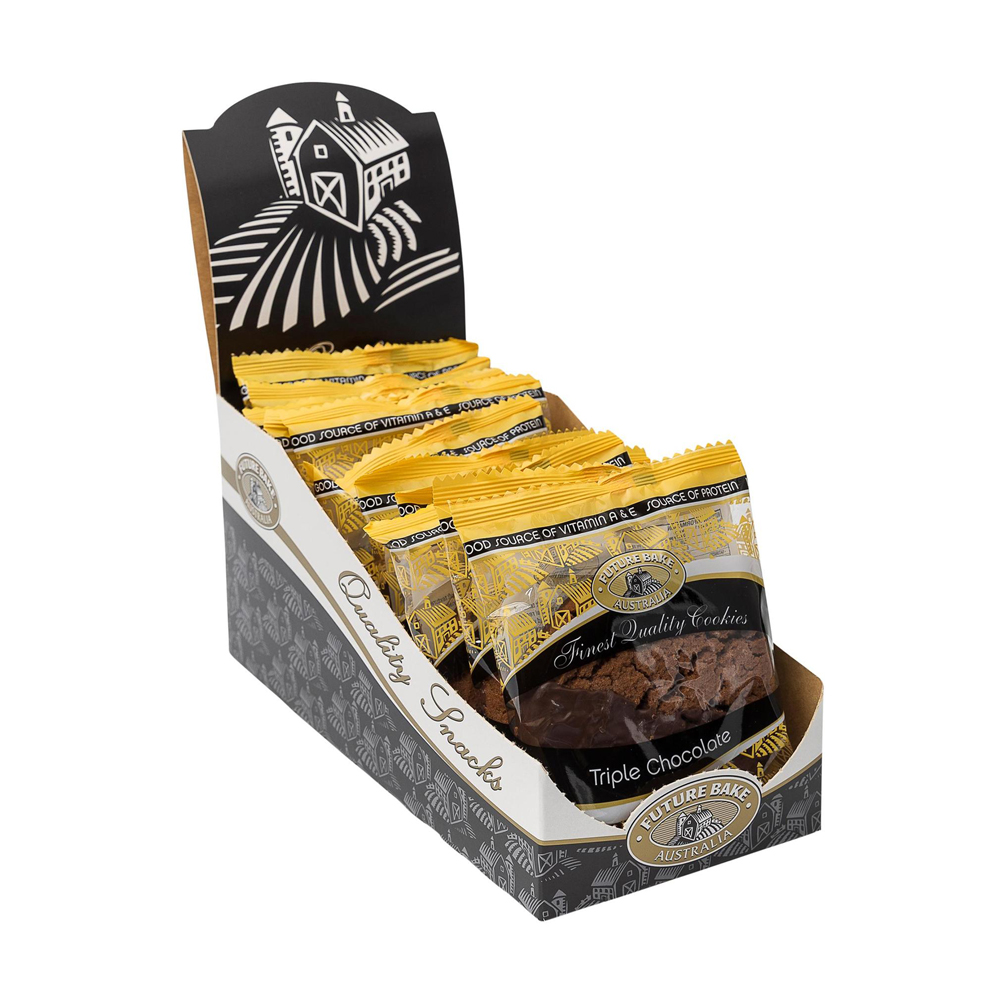 Future Bake Australia Triple Choc Cookie
12 x 120gm - $30.20
$30.20 INC. GST
A chocoholics dream! This rich brown chocolate cookie has added chocolate chips and is half coated in chocolate – another delicious product from Future Bake Australia!
Baked in Melbourne, Australia, these cookies are a good source of Vitamin E and Vitamin A with no added colours and all-natural flavours. Made with Future Bake Australia's original recipe and ingredients sourced from primarily local suppliers.
Looking for more great foods from Future Bake Australia in Hobart or Launceston? Make sure to explore our range online and at our local health food stores across Tasmania.
Features:
Good Source of Vitamin E and Vitamin A
Source of Iron, Vitamin D and Protein
Increased Dietary Fibre
All Natural Flavours
No Added Colours
INGREDIENTS
Cereals (Wheat flour) Margarine (Sunflower Oil, Vegetable oil, Water, Salt, Emulsifier [Sunflower Lecithin], Flavour, Vitamin A, D, E), Milk Compound Chocolate ([18%] Sugar, Vegetable oil, Milk Solids, Cocoa Powder, Emulsifier [Soy Lecithin]), Dark Compound Chocolate ([8%] Sugar, Vegetable fat, Emulsifier [Soy Lecithin]), Sugar, Glucose, Honey, Egg, Cocoa powder (1%), Raising agent (450, 500), Humectant (Glycerine), Natural Flavour, Emulsifier (Soy Lecithin), Preservatives (202, 282)
ALLERGEN ADVICE
Contains Wheat containing cereals (Gluten), Egg, Milk and Milk products, Soy. Cooked and packed on the same equipment as other Gluten containing Cereals, Tree Nuts & Peanuts and may contain traces of Sesame.