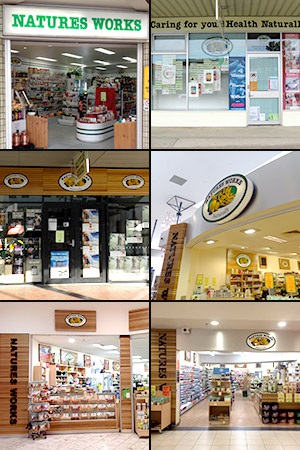 Natures Works is a family owned and operated Tasmanian business. The current owners purchased the business in May 1991. At that time there were 5 shops across Tasmania – Northgate, Cat & Fiddle, Launceston, Burnie and Eastlands.
Natures Works has continued to grow over the years adding a further 6 stores to the original 5.
The first addition to the family occurred in October 2000 with the purchase of For Goodness Sake Health Foods Kings Meadows, store number 6.
The two Vitality Health Food stores, at Devonport and Fourways became family members in October 2005 – store numbers 7 and 8.
The Health Barn at Channel Court was purchased in August 2007 – store number 9.
In September 2008 Healthy Life Kingston was added to the family – store number 10.
Store number 11, Go Vita Sandy Bay was purchased in October 2012.
All 11 stores are supported by the warehouse which also supplies wholesale to trade customers.
Natures Works buy in bulk to keep prices low and compete with the big supermarket chains. Where possible we buy Tasmanian and Australian product. The bulk of our nuts are roasted at our warehouse in Glenorchy to ensure that the customer receives the freshest product available.
The launch of the Natures Works website is store number 12. The website offers all of the great products available in store at the same low prices.