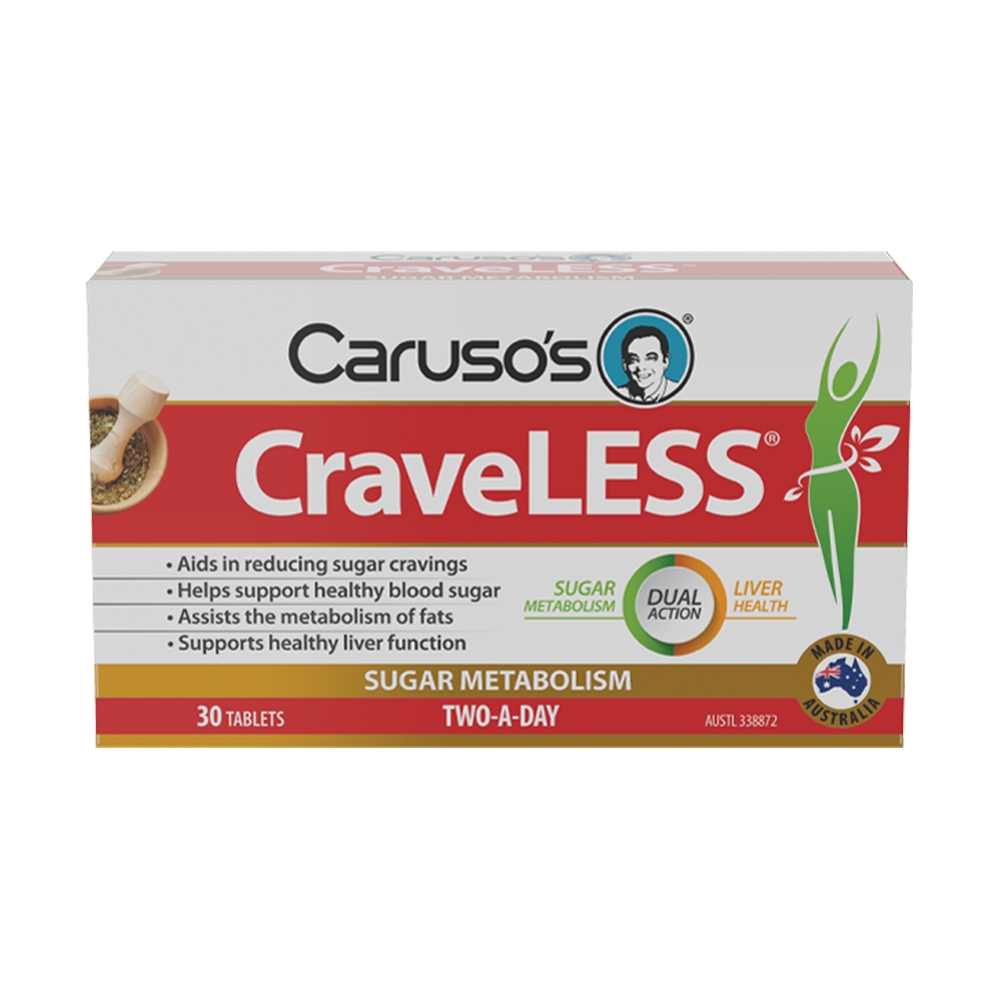 Looking for Caruso's weight loss products? The Caruso's CraveLESS is a 2-in-1, bi-layer tablet with key ingredients that may help support healthy liver function and glucose metabolism. It can also help reduce sugar cravings. Caruso's CraveLESS may be used alongside a healthy eating and exercise plan.
Caruso's CraveLESS may help with:
Managing sugar cravings
Reducing carbohydrate cravings
Maintaining healthy blood sugar
Assisting the breakdown of dietary fat
Maintaining/supporting healthy cholesterol
Supporting liver health and healthy liver function
Warnings:
Always read the label and follow the directions for use
If symptoms persist, talk to your health professional
Vitamin and mineral supplements should not replace a balanced diet
Not recommended for use with gall bladder obstruction or in the presence of gallstones
Blood glucose levels should be monitored when used in conjunction with hypoglycaemic drugs and Insulin
If you are taking any medications or have any existing health conditions, always talk to your health professional before use
Not recommended for use by pregnant or lactating women
Take at least two hours away from pharmaceutical medications
This Caruso's weight loss product is:
Free from animal products
Has no artificial colours, flavours or preservatives
Dairy free
Gluten free
Lactose free
Nut free
Soya bean free
Starch free
Sugar free
Wheat free
Yeast free
For more Caruso's weight loss products and vitamins, explore our range online. You can also visit us at any of our health food stores across Tasmania.
Source: carusosnaturalhealth.com.au
| | |
| --- | --- |
| Variants | 30 Tabs ,60 Tabs |
| | |