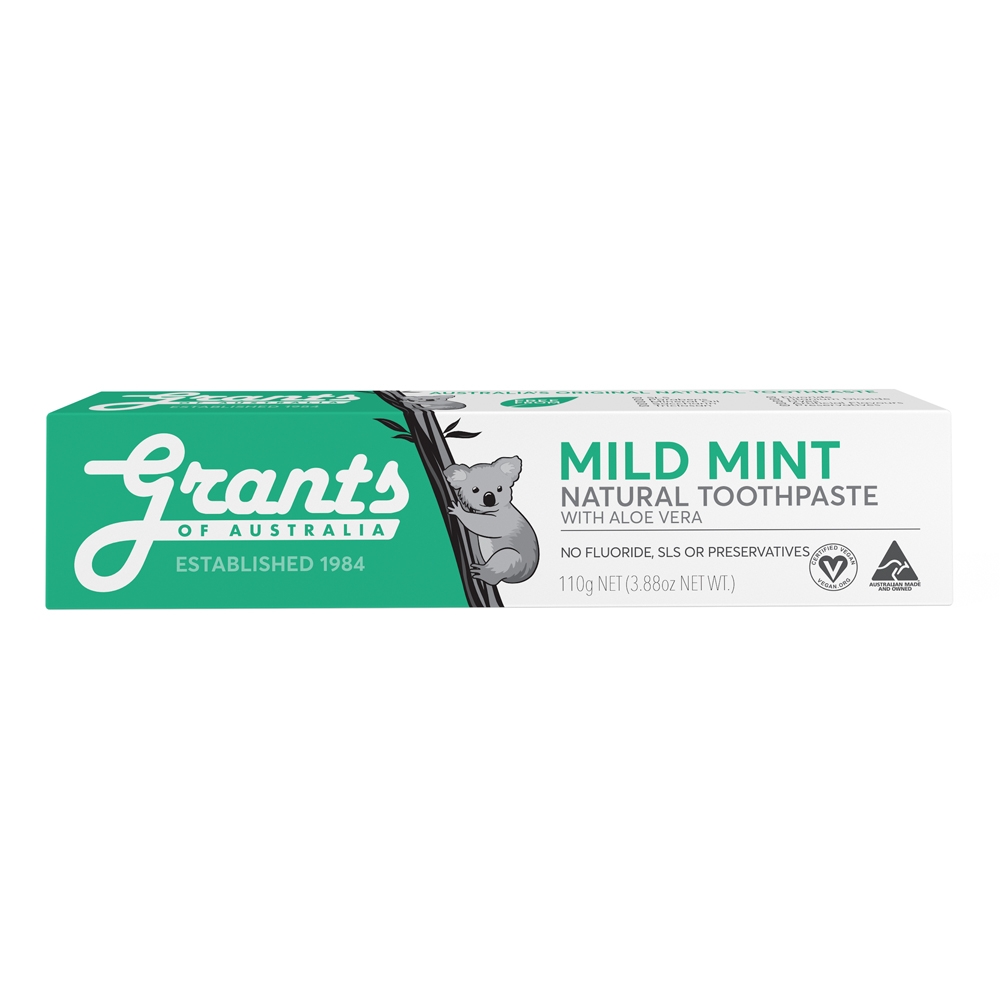 Looking for a mild flavoured toothpaste? The Grants of Australia Mild Mint is guaranteed to be a winner with the whole family. The flavour may be mild, but the benefits are extraordinary. Packed full of healing ingredients like organic Aloe Vera, which soothes teeth and gums, and natural herbs for gentle oral care and fresh breath, it's ideal for those with sensitive gums or mouth ulcers.
Use twice daily. Do not swallow. Rinse after brushing. Children should be supervised by an adult when brushing their teeth.
Features:
Fluoride Free
Australian Made & Owned
Certified Vegan
Suitable for ages 6+
Canstar Blue's Most Satisfied Customer's – Toothpaste 2020-2021
INGREDIENTS
Calcium Carbonate, Water (aqua), Aloe Barbadensis Leaf Juice (certified organic), Glycerin (Vegetable), Xylitol, Silica, Sodium Lauroyl Sarcosinate (from coconut), Cellulose Gum, Dicalcium Phosphate Dihydrate, Flavour/Aroma (Natural Herbal Extract), Stevioside (Stevia), Magnesium Hydroxide, Potassium Chloride.

*Mint Oil, Eucalyptus Oil, Cardamon, Anise, Caraway, Coriander, Rosemary and Clary Sage, Limonene& Linalool
Contains Minerals: Calcium, Potassium, Phosphorous, Magnesium, Sodium.
Source: grantsofaustralia.com.au