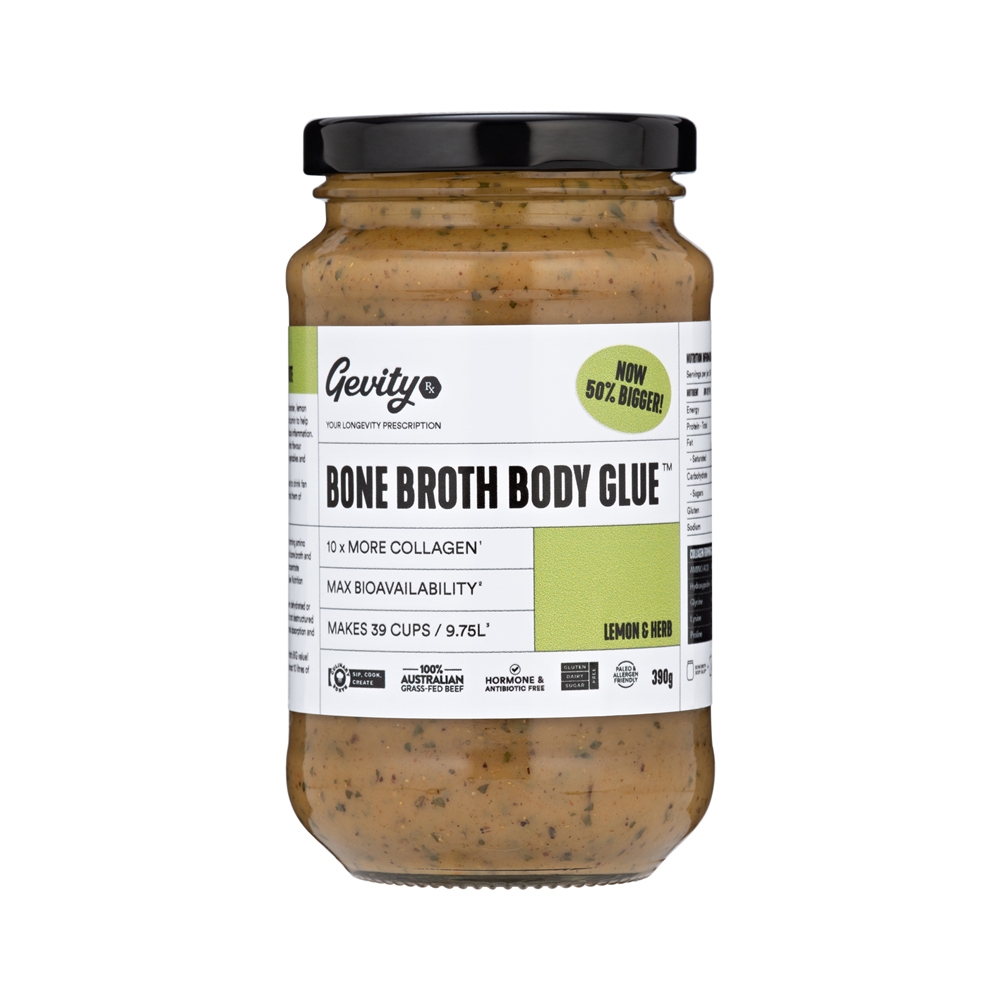 Gevity RX Lemon & Herb Bone Broth Body Glue™ is a safe bet for anyone wanting a super palatable sipping broth and zesty cooking staple.
The herb based flavour makes it easy to add to almost any dish - especially chicken and white meats. It's a great choice for sauces and gravies and if you're looking to boost the nutrients in family meals undetected.
Flavour profile - Zesty and easy to drink fan favourite that some say reminds them of chicken soup.
390g jar | 39 serves | Makes 9.75L
How To Use
If you don't know where to start your bone broth journey, Lemon & Herb Body Glue is a great choice. It's fresh, zesty and non-meaty flavour make it delicious for both sipping and cooking. Here are some of our favourite ways to enjoy Lemon & Herb.
Sip your way to better gut health
Just mix a spoonful into a mug of hot water and improved gut health is just a sip away.
Elevate your favourite meals
Stir through your favourite savoury recipes for a super dose of collagen and flavour. Fussy family members (and kids) will never know!
Replace nutrient-void stocks
Lemon & Herb can be used in place of stock in any recipe! Simply add 1tsp (or more to taste) to each cup of water required to take your meals to next-level healthy. One jar makes a HUGE 9.75L of gut healing bone broth / stock!
Ingredients
Australian Grass-Fed Beef Bones, Naturally Evaporated Sea Salt*, Parsley, Coriander, Oregano, Sumac, Lemon Myrtle, Thyme, Galangal, Chilli, Turmeric, Black Pepper, Cumin, Mint
*Naturally Evaporated Sea Salt is the traditional natural way to extract maximum nutrients from the bones whilst also preserving the product.
Source: au.gevityrx.com
| | |
| --- | --- |
| Variants | 390g |
| Previous Name | Meadow & Marrow Lemon & Herb Bone Broth Concentrate |
| Also Known As | Meadow and Marrow |