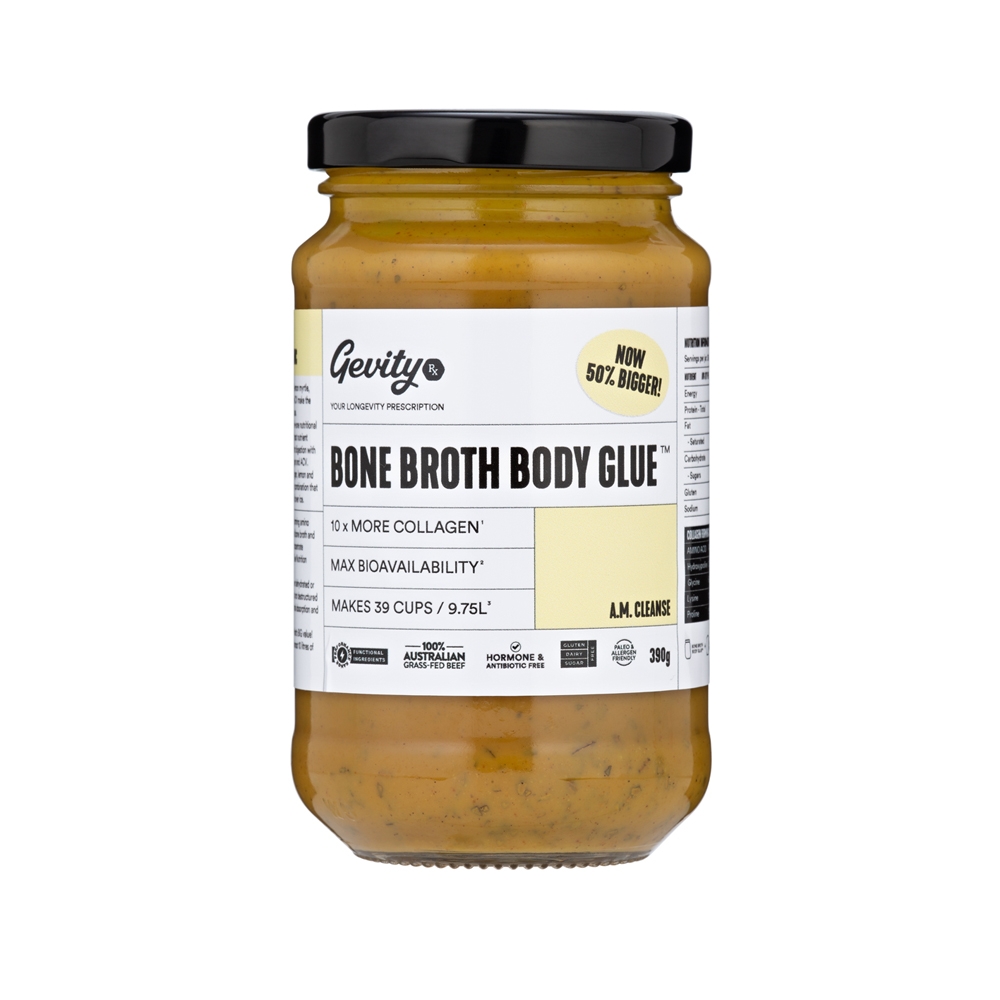 A.M. Cleanse is a two-in-one nutritional hack! Heal with world's most nutrient dense bone broth & kick-start digestion with immune boosting lemon, ginger & ACV.
Flavour profile - turmeric, ginger, lemon & pepper make a great savoury combination that is also delicious served chilled over ice.
390g jar | 39 serves | Makes 9.75L
How To Use
Simply add to hot water for an instant, savoury gut healing beverage. A.M. Cleanse Body Glue is a great choice for those that love a flavoursome ready-to-drink broth which can also be used in cooking.

DIY flavour instant broth
Hot - Just mix a spoonful into a mug of hot water and add your favourite herbs and spices.
Cold - Mix a spoonful into just a little hot water to dissolve, top with ice and cold water.
Boost your favourite meals
Stir through your favourite savoury recipes for a super dose of collagen and tangy flavour.
Replace nutrient-void stocks
A.M. Cleans can be used in place of stock in any recipe! Simply mix 1 teaspoon (or more to taste) to a cup of water for each cup of stock required.
Supercharge your smoothies
Add a teaspoon of A.M. Cleanse to your favourite smoothies to include the gut healing benefits of collagen rich bone broth.
Ingredients
100% Grass-Fed Beef Bones (82%), Naturally Evaporated Sea Salt, Ginger, Turmeric, Organic Apple Cider Vinegar, Black Pepper, Lemon Myrtle.
Source: au.gevityrx.com
| | |
| --- | --- |
| Variants | 390g |
| Previous Name | Meadow & Marrow AM Cleanse Bone Broth Concentrate |
| Also Known As | Meadow and Marrow A.M. Cleanse |