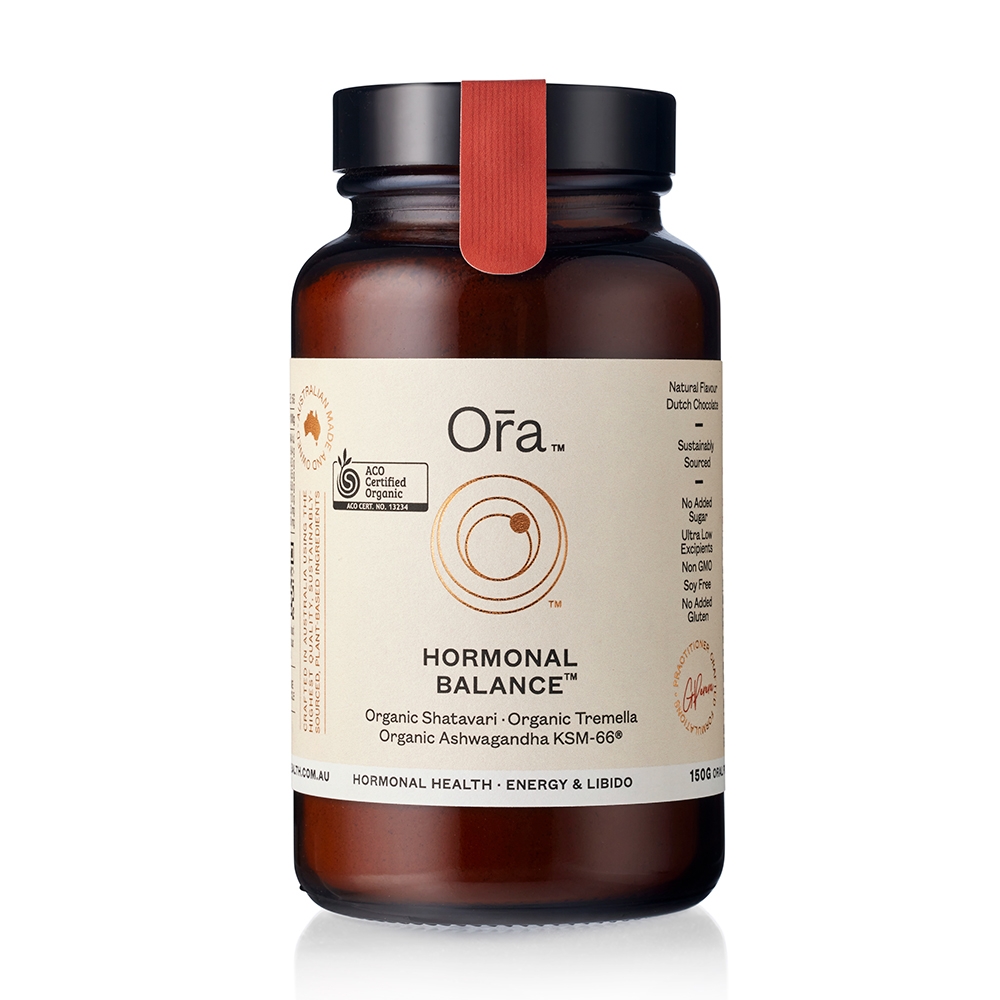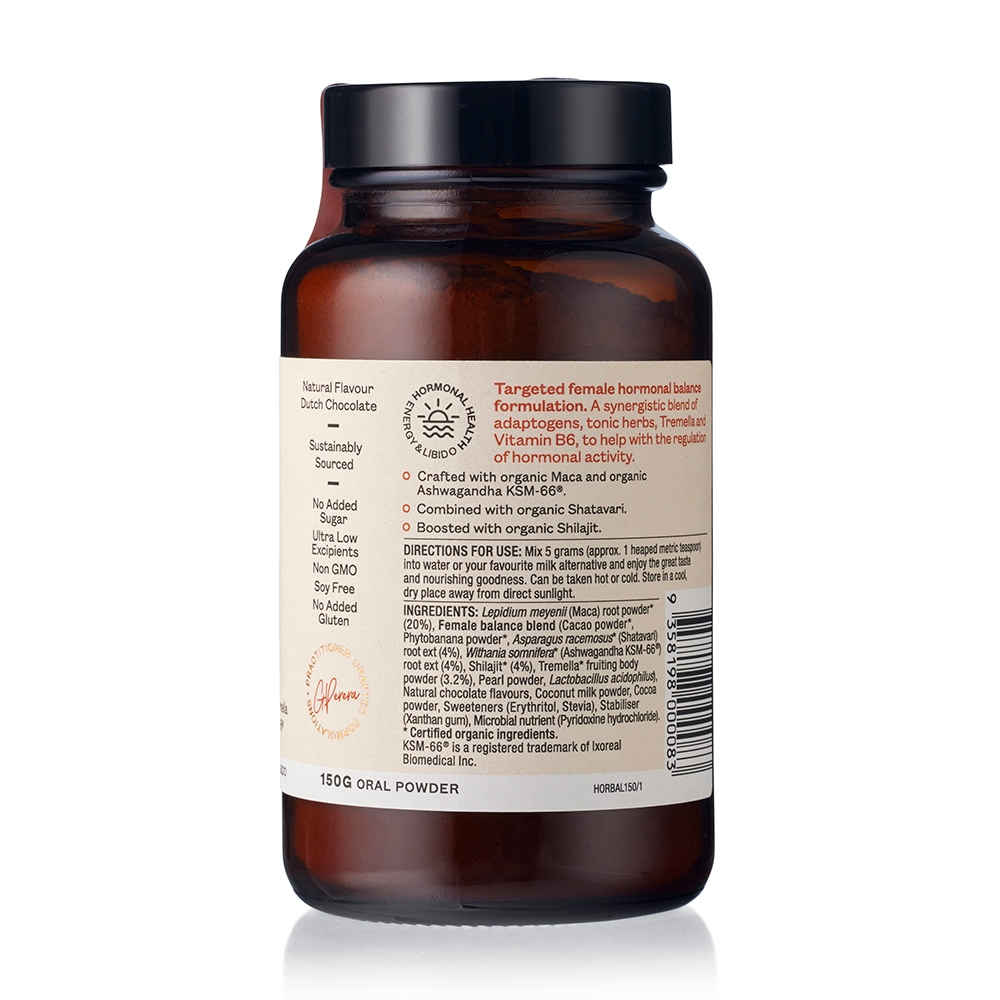 Ora Hormonal Balance
Dutch Chocolate 150g powder - $42.95
$42.95 - $42.95 INC. GST
Hormone imbalances manifest in all sorts of ways - migraines, fatigue, mood swings, low libido - you name it. Our award-winning Hormonal Balance™ is formulated with a synergistic blend of adaptogens and Vitamin B6 for hormonal and energy support and Tremella, the beauty mushroom. Natural Dutch chocolate flavour and tastes best shaken (not stirred!) in plant-based milk.
Also available in Vanilla.
Lepidium meyenii (Maca) root powder* (20%), Cacao powder*, Banana resistant starch powder*, Asparagus racemosus* (Shatavari) root ext (4%) Withania somnifera* (KSM-66® Ashwagandha) root ext (4%), Shilajit* (4%), Tremella* fruiting body powder (3.2%), Lactobacillus acidophilus, Natural chocolate flavours, Coconut milk powder, Cocoa powder, Erythritol, Stevia, Xanthan gum, Pyridoxine hydrochloride.
*Certified organic ingredients
No added yeast, soy, sugars, lactose, gluten, artificial colourings, dairy, or animal products.
Improve symptoms of hormonal imbalances (fatigue, mood swings, digestive issues, acne, weight fluctuations)
Help the body adapt to stress
Increase energy and vitality
How to Use
Mix 5 grams (approx. 1 heaped metric teaspoon) into water or your favourite milk alternative. Can be taken warm (ideally not hot) or cold, and best served shaken, not stirred.
How do I take Hormonal Balance™?
We have formulated Hormonal Balance™ to be as tasty as possible, so all you need is some water to mix it in! However if you prefer, you can also try it in any plant-based milk (try it warm, it's our favourite hot chocolate alternative).
What's the minimum age for taking Hormonal Balance™?
Hormonal Balance™ is designed for adults 18 years and above. It is a functional food that can help improve skin health, boost energy levels and improve symptoms of a hormonal imbalance.
Can men take Hormonal Balance™?
Hormonal Balance™ is a product that has been formulated predominantly with women in mind, but there will be no negative impact for a men's hormonal balance should they choose to take it.
Can I take Hormonal Balance™ with the pill?
Hormonal Balance™ does not contain Vitex agnus-castus nor does it contain any other ingredient which has a known ability to interfere with the oral contraceptive pill. If you have any pre-existing conditions, are on any medications, always talk to your health professional before use.
Is Hormonal Balance™ safe to use during pregnancy and breastfeeding?
We do not recommend Hormonal Balance™ during pregnancy, but we do recommend it during breastfeeding.
Source: orahealth.com.au
| | |
| --- | --- |
| Variants | Dutch Chocolate 150g powder ,Vanilla 150g powder |
| | |