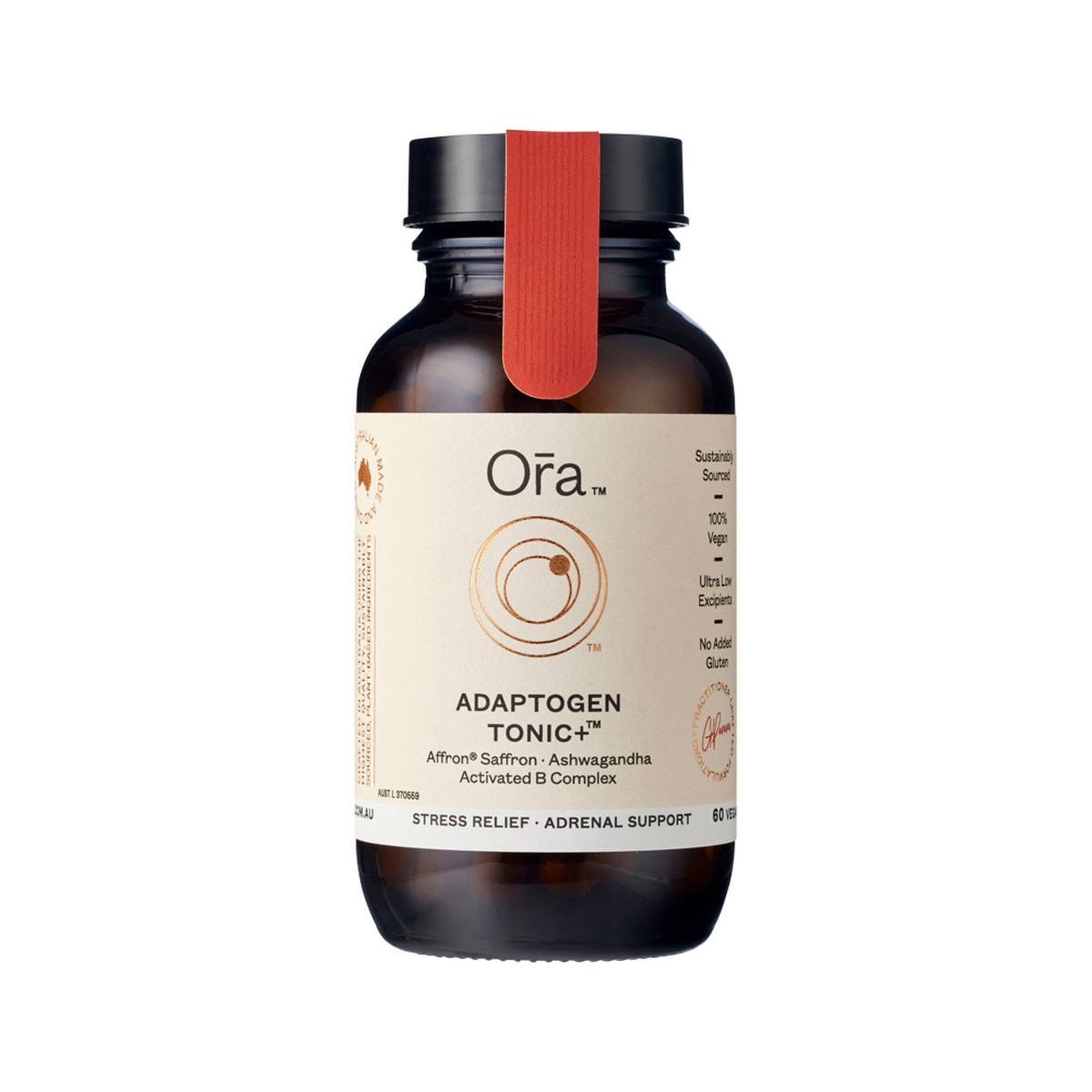 Ora Adaptogen Tonic +
60c - $42.95
$42.95 INC. GST
A powerful blend of adaptogenic herbs traditionally used in Western, Chinese and Ayurvedic Medicine to tackle stress and enhance energy levels. The formulation also includes Affron®, a clinically-trialled Saffron extract that helps reduce the symptoms of mild anxiety.
Ingredients
A daily dose (two capsules) contains:

Crocus sativus (Affron® Saffron) stigma ext. dry conc. 28mg
from dry stigma 84mg

Eleutherococcus senticosus (Organic Siberian ginseng) root ext. dry conc. 66.6mg
from dry root 3g

Schisandra chinensis fruit ext. dry conc. 80mg
from dry fruit 2g

Glycyrrhiza glabra (Liquorice) root ext. dry conc. 153.8mg
from dry root 2g

Withania somnifera (Ashwagandha) root ext. dry conc. 250mg
from dry root 3g

Thiamine hydrochloride (Vitamin B1) 50.8mg
equivalent 40mg

Riboflavin (Vitamin B2) 20mg

Nicotinamide (Vitamin B3) 100mg

Calcium pantothenate (Vitamin B5) 109.98 mg
equivalent Pantothenic acid 100 mg

Pyridoxine hydrochloride (Vitamin B6) 20mg
equivalent Pyridoxine 16.4mg

Pyridoxal 5-phosphate monohydrate (Vitamin B6) 10mg
equivalent Pyridoxine 6.4mg

Calcium folinate 440mcg
equivalent Folinic acid 400mcg

Mecobalmin (Vitamin B12) 200mcg

No added yeast, soy, sugars, lactose, gluten, artificial colourings, dairy, or animal products.
Benefits
Support healthy mood and emotional balance
Help the body adapt to stress
Relieve symptoms of mild anxiety
Increase energy and vitality
Reduce physical and mental fatigue
Directions
Take one capsule twice daily or as recommended by your healthcare practitioner.
Always read the label. Follow the directions for use. If symptoms persist, worsen, or change unexpectedly, talk to your healthcare professional.
FAQs
What are adaptogens?
Adaptogens are a class of plants that help the body manage stress, anxiety and fatigue by supporting the endocrine system. They target multiple functions in the body, adapting to what the body requires at any given time to restore balance.
Should I take Adaptogen Tonic+™ in the morning or evening?
As Adaptogen Tonic+™ contains B-vitamins that can interfere with sleep, we recommend taking it in the morning, preferably with your first meal.
Is Adaptogen Tonic+™ safe to use during pregnancy and breastfeeding?
We recommend avoiding Adaptogen Tonic+™ during pregnancy and breastfeeding.

Source : orahealth.com.au