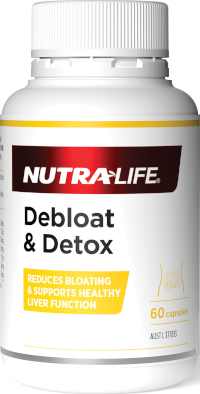 FEATURES
Nutra-Life Debloat & Detox contains Fennel seed which is traditionally used in Chinese herbal medicine to reduce & relieve abdominal bloating, pain & discomfort. Also contains Milk thistle supports healthy liver function & natural liver detoxification processes, while Papain supports healthy digestion
DOSAGE
Recommended Adult Dosage: Take 1 capsules, twice daily. Or as directed by your healthcare professional.
INGREDIENTS
Each capsule provides:
Silybum marianum (Milk thistle) fruit dry extract 390mg
Equiv. Silybum marianum fruit dry 27.3g
Standardised to contain Silymarin 210.6mg,
Foeniculum vulgare (Fennel) seed dry extract 150mg
Equiv. Foeniculum vulgare seed dry 1.5g,
Papain 45mg,
Bromelains 20mg
FORMULATED WITHOUT
Gluten, wheat, dairy products, egg, soy, artificial colours, artificial flavours, artificial sweeteners or preservatives.
CONTAINS
Animal products, sulfites.
WARNINGS
Always read the label and follow the directions for use. Do not use if pregnant or likely to become pregnant. Do not use while breastfeeding. Use in children under 12 years is not recommend.


Source: nutralife.com.au/