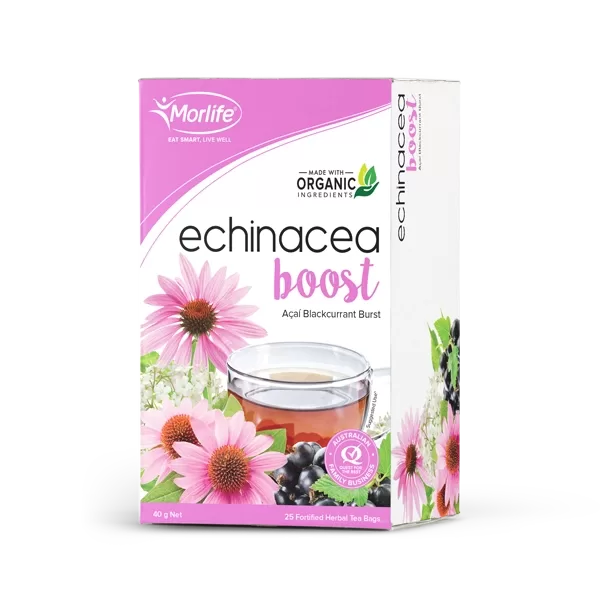 Nothing tastes as good as wellness feels with Morlife's Echinacea Boost herbal tea. Bursting with delicious acai blackcurrant flavour, you'll have the perfect berry tea fusion to keep you on top of your game. This delightful organic tea consists of Echinacea, elderberry, hibiscus flowers and rosehips for its wonderful benefits.
Morlife's Echinacea Boost has been naturopathically formulated to bring you a unique, bold and berry flavoured herbal tea fusion to enjoy throughout the day for a boost of goodness.
For more organic teas (as well as more organic foods in Tasmania) visit Natures Works – your local health food store.
Benefits:
Acai Blackcurrant burst flavour
25 fortified herbal tea bags
Naturopathically formulated
Made with Organic ingredients
Tea bags made with unbleached paper
Source: morlife.com
| | |
| --- | --- |
| Variants | 40g ~ 25 Fortified Herbal Tea Bags |
| Flavour | Acai Blackcurrant Burst |
| Ingredients | Organic Echinacea (39%*), Organic Elderberry (22%*), Organic Hibiscus Flowers, Organic Rosehip Granules, Acai Natural Flavour, Blackcurrant Natural Flavour. *Average quantities |
| SUGGESTED USE | Infuse 1-2 tea bags in very hot water (not boiling) for 2-10 min. Use up to three times daily. Best consumed without milk. Add honey to sweeten if desired. For a delicious alternative, combine Echinacea Boost with blackcurrant juice. |
| Advice: | Manufactured in a facility that processes products containing soy, dairy, gluten and tree nuts. |
| Warning: | Consult your health professional or naturopath if pregnant, lactating, taking medications or suffering from a serious health condition before taking. Discontinue taking and seek professional advice if any adverse reaction occurs. |