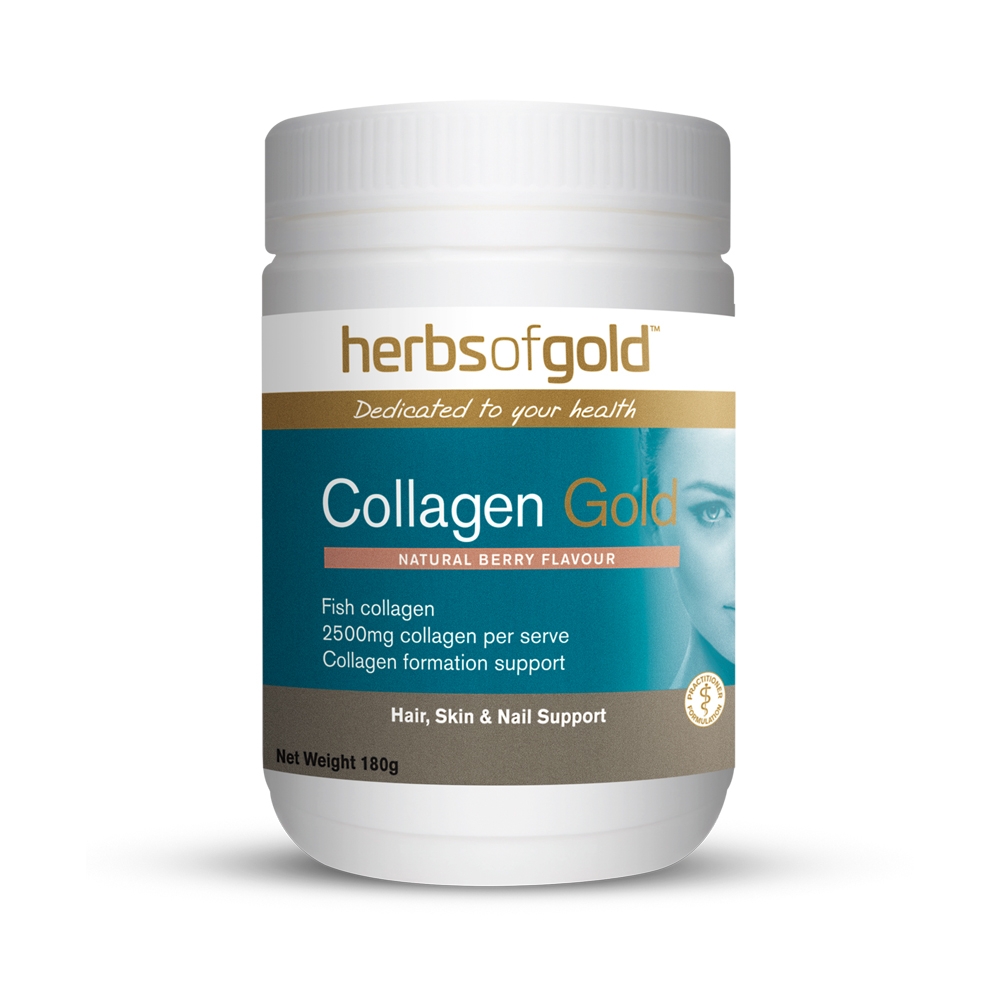 Herbs of Gold Collagen Gold is a delicious berry-flavoured powder that contains high-quality, premium collagen derived from fish combined with antioxidant-rich superfoods.

Collagen Gold contains 2500mg of high-quality, easily absorbed collagen peptides derived from type I fish collagen in each 6g serve.
Collagen is the body's most abundant protein, representing approximately 30% of total body protein, and provides tensile strength and firmness to connective tissues, such as hair, skin, nails and joints.
Collagen peptides are predominantly composed of hydroxyproline, proline and glycine - important amino acids that play a key role in the production and stability of collagen.
Acai and Acerola berries and Guava leaf provide a natural source of vitamin C and zinc, antioxidants that contribute to cell protection from free radicals. Vitamin C is important for normal collagen formation for the normal function of skin, while zinc contributes to the maintenance of normal hair, nails and skin structure when part of a healthy diet involving a variety of foods.
Collagen Gold is available in a berry-flavoured powder naturally sweetened with thaumatin.
DIRECTIONS
Add 6g (1 heaped scoop) to 150ml water or other preferred beverage and mix well.
Contains silica gel canister to protect from moisture. Scoop included.

WARNINGS

Collagen is derived from fish.
Source: herbsofgold.com.au
| | |
| --- | --- |
| Variants | 180g ~ Natural Berry Flavour |
| | |