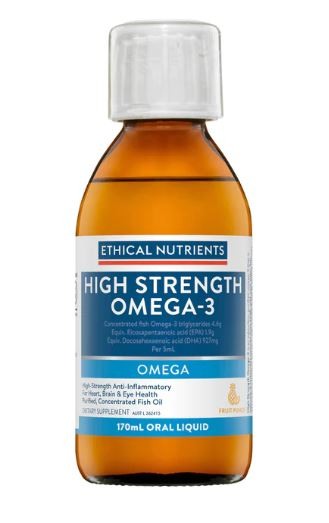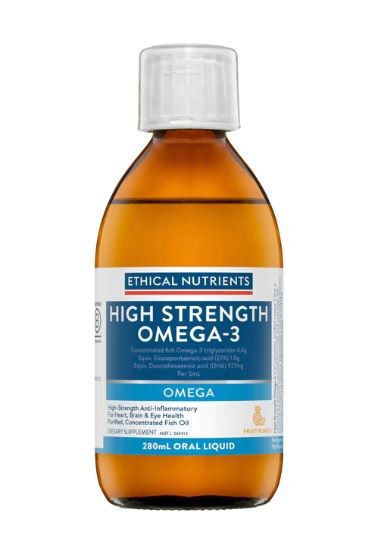 Always read the label and follow the directions for use.
Purified, bioavailable, concentrated fish oil
High Strength Omega-3 is a supplement to support heart, brain & eye health. it works to:

Provide high-strength anti-inflammatory relief
Support a healthy heart and cardiovascular system
Assist healthy cognitive function and brain and eye development in children
Support optimal nervous system function
Maintain balance of healthy blood lipids
Oils derived from fish have been used to relieve mild rheumatic aches and pains in Traditional Naturopathic medicine
Flavour: Fruit Punch
Ingredients
Each 5mL (1 metric teaspoon) contains: Concentrated fish Omega-3 triglycerides 4.6g Equiv. Eicosapentaenoic acid (EPA) 1.9g Equiv. Docosahexaenoic acid (DHA) 927mg
Directions
Shake well before opening. Mix with a small amount of juice, or take with food if preferred. Adults: To relieve inflammation, support the nervous system, and maintain healthy blood lipids: Take 5mL (1 metric teaspoon) daily. To maintain cardiovascular and heart health: Take 1.25mL (1/4 metric teaspoon) daily. Children: For healthy cognitive function: 2-5 years: Take 1.25 ml (1/4 metric teaspoon) daily. 6-12 years: Take 2.5mL (1/2 metric teaspoon) daily.
Free from
Gluten
Wheat
Dairy
Lactose
Corn
Cereals
Eggs
Yeast
Salt
Warnings
If symptoms persist consult your healthcare professional. Do not use if cap and/or bottle seals are missing or broken. Contains fish and sucralose. Use product within two months of opening. Some sediment may be present. Shake well. No added artificial colouring or preservatives.
Source : ethicalnutrients.com.au