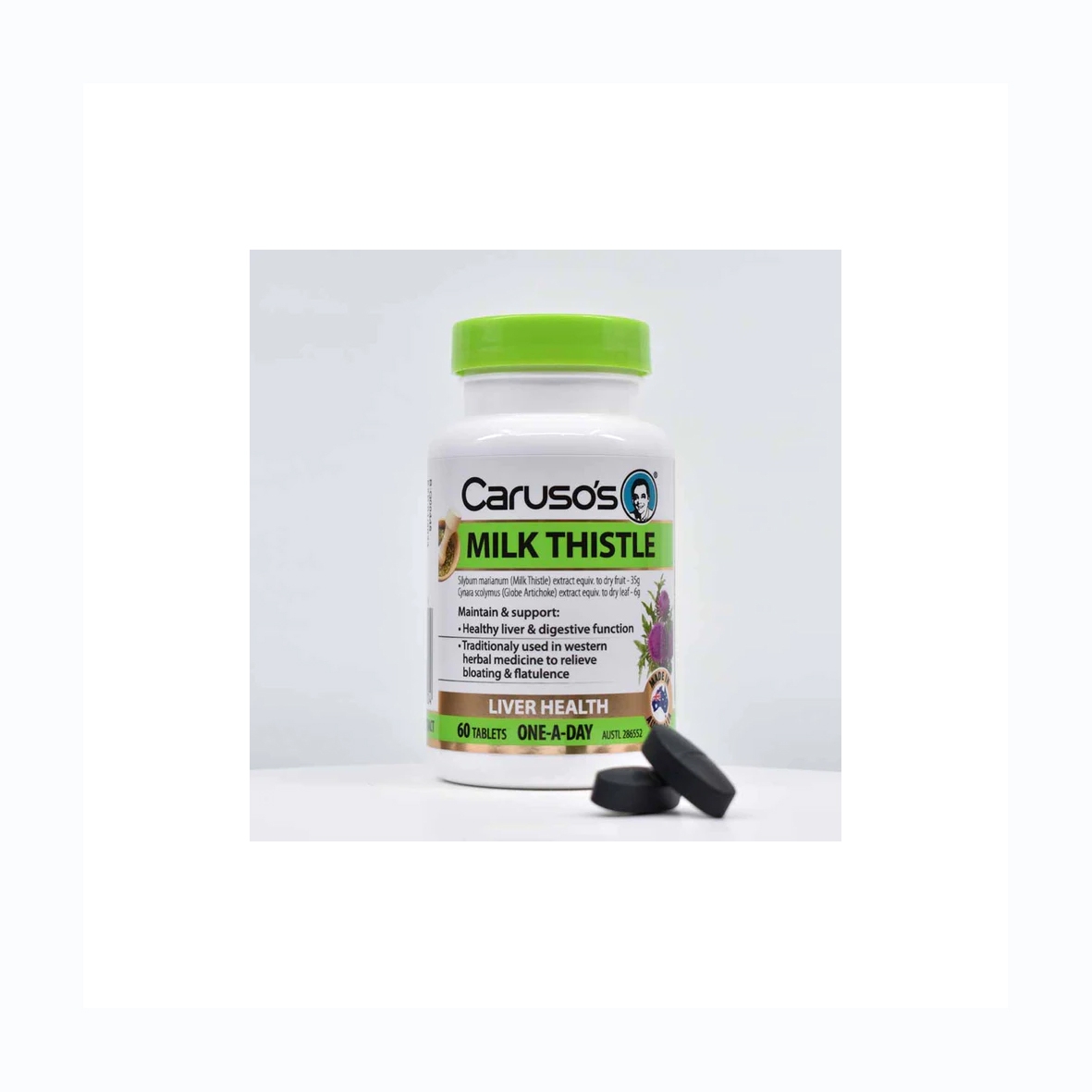 Caruso Milk Thistle
60T - $29.75
$29.75 INC. GST
HEALTH BENEFITS
Why use Caruso's Milk Thistle 35,000?
Caruso's Milk Thistle 35,000 has been developed to assist with the maintenance of liver health, assists the body's natural channels of elimination and also supports healthy digestion.
Milk Thistle is an antioxidant which has effects in supporting natural liver cleansing and traditional uses in Western Herbal Medicine as a liver tonic and to assist with healthy liver regeneration. Globe Artichoke supports bile production, secretion and flow which assists in the emulsification and digestion of dietary fats, can help to relieve symptoms of medically diagnosed Irritable Bowel Syndrome (IBS) and traditionally in Western Herbal Medicine, to reduce the occurrence in symptoms of dyspepsia and indigestion.
Caruso's Milk Thistle 35,000 Has Been Formulated For:
Supporting liver health and functions including natural detoxification processes
Assisting with the digestion and emulsifications of dietary fats in the digestive system
Relieving symptoms of medically diagnosed Irritable Bowel Syndrome (IBS)
Promoting healthy digestive system function while regulating the appetite
Helping with the maintenance of healthy blood lipids, including cholesterol
Always read the label and follow the directions for use
If symptoms persist, worsen or episodes of medically diagnosed IBS become more frequent, talk to your health professional
If you are taking any medications or have any existing health conditions, always talk to your health professional before use
Not recommended for use by pregnant or lactating women
Not recommended for use with gall bladder obstruction or in the presence of gallstones
Not suitable for children under the age of 18
Take at least 2 hours away from pharmaceutical medications
SOURCE: carusosnaturalhealth.com.au